Chairman – Shri Pradeep Chhabra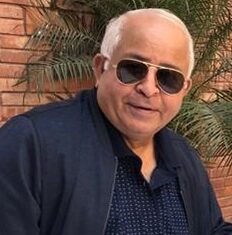 Shri Pradeep Chhabra graduated from Delhi College of Engineering in Mechanical Engineering in the year 1976. He is an astute and result oriented professional with more than 4 decades (1976-2017) of experience both in the Public and Private sector in managing business and business development activities in downstream of Oil, Gas and Petrochemical. He has in his long career established many new businesses in these segments which are now multi billion dollars by revenue. He was born and brought up in Delhi. He is a Mechanical engineer by education and marketer at heart and lives in Delhi with his wife, Meenakshi and son, Siddhant. He enjoys listening to music, loves travelling and reading non-fiction. He is a firm believer in raising the professional and personal standards of others.
Pradeep has so far published three nonfiction books , one in each year, post his regular job. His first book published in 2018 was "Uncork Yourself Not Bottles". His second book, "Conquering Corporate Circus" was published in 2019. And his latest book, "The Accidental Engineers- Toppers Excuse" has been published this year only. He has extensive footprints in social media on LinkedIn , Facebook & Twitter.
pradeepchhabra@hotmail.com
Joint Secretary – Shri Shivam Jha
Shri Shivam Jha is a graduate in Mechanical Engineering from the Class of 2020 at DTU. He was the Founding President of 180 Degrees Consulting DTU, a branch of the world's largest university-based consultancy. He was also the Editor-in-Chief at DTU Times, the university newsletter and media platform. Besides these, he served as the Joint Secretary of Sahitya – The Literary & Debating Society, and also as the Head of Research for TEDxDTU. He was a member of the university's senior parliamentary debating team and has won numerous accolades in case competitions, quizzes and debates at the national level.
Over the four years in college, he has interned in analytics, editorial and marketing roles along with pursuing research at the Department of Mechanical Engineering, DTU and Quantitative Methods & Operations Management through IIM Kozhikode. He is currently working with PricewaterhouseCoopers as a Technology Consultant in Gurgaon. He's passionate about literature, photography, music and rail travel, among other things. Born and brought up in New Delhi, he loves the city to its core and wishes to work towards public transportation planning one day. A history, international politics and cartography enthusiast, he's the least archetypal engineering graduate you'll ever come across.
shivam.jha3@gmail.com