Chairman – Shri Bhaskar Basu
Shri Bhaskar Basu a Mechanical Engineer from Delhi College of Engineering & PGDM from IIM (Calcutta) has 3 decades of experience with leading Global Corporations across 7 Asian countries establishing Brands, Businesses & People ranging from emerging Markets like India & Indonesia to advanced markets like Japan & South Korea. With a successful track record of establishing emerging Brands & People reaching their full potential, he launched the first Global Ice Cream Brand in India Wall's as its Brand Manager with Hindustan Lever, established the first Global Coffee Retail Chain in India 'Costa Coffee' as its first C.E.O in India, helped establish Perfetti Vanmelle as the No.1 confectionery company in India followed by Indonesia & thus Asia & has incubated multiple human resources currently occupying positions of Global & Indian C.E.O/ C.X.Os of major Corporations.
Post 3 decades of corporate engagement he is currently engaged with a Mysore based Social Development organization 'Swami Vivekananda Youth Movement' working amongst most deprived rural especially Tribal people across Karnataka in the areas of Healthcare, Education, Skill & Livelihood Training bringing about Human & Social capital development leading to economic improvements.
Joint Secretary – Mihika Sankhla
Mihika Sankhla, a DTU student graduating in 2024 is pursuing a major in Environmental Engineering and a minor in Economics. She has undertaken internships in different companies and across various domains. These include a data analytics internship at the Indian School of Hyderabad, an internship in the corporate strategy management at Bharat Heavy Electricals Ltd, and a research internship at Iora Ecological, an environmental advisory organization. Currently, Mihika is engaged as a summer intern at the Dedicated Freight Corridor Corporation Ltd., a PSU of Ministry of Railways. Mihika's involvement extends beyond academics, as she is an active member of several college societies. Notably, she holds the position of Vice President at Emcee- DTU, the hosting society of her college and General Secretary at the Society for Civil and Environmental Engineers, DTU.
Joint Secretary – Shri Ishank Singh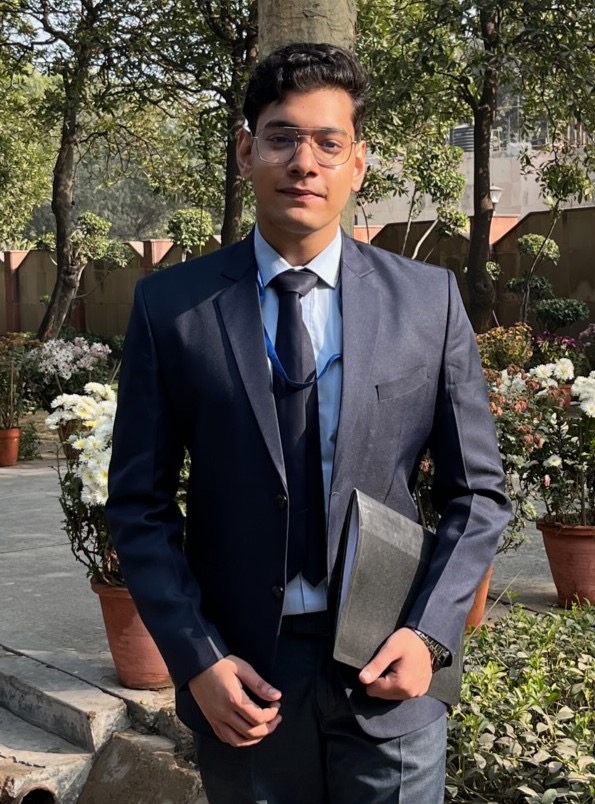 Ishank Singh, a student from the batch gradating in 2024, is currently pursuing a major in Civil Engineering with a minor in Information Technology. He holds the position of General Secretary at the Indian Geotechnical Society – DTU Chapter. A natural leader and team player, Ishank's ability to inspire and motivate those around him is unparalleled. He has done his internship in COFMOW, Ministry of Railways in Supply Chain & Management, DFCCIL as an industrial trainee and CPWD & DDA in Quality Control and Testing. Apart from his exemplary academics and extra-curricular activities, in his free time, he does powerlifting. Beyond his professional achievements, Ishank is deeply committed to social causes and positively impacting the community. He was also a volunteer at Special Olympics Bharat. He actively participates in various volunteering activities and initiatives.