Chairman – Shri Govind Singh,IPS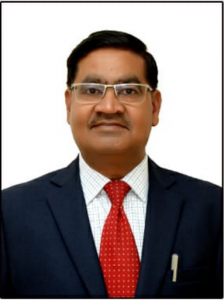 Shri Govind Singh, IPS completed his Bachelor of Engineering (Mechanical) from Delhi College of Engineering and worked in "Engineers India Limited" from 1985 to 1990. Subsequently, he got selected in "Indian Police Service " (IPS) in the year 1989. During training at SVP National Police Academy, Hyderabad, he was awarded with "Vandana Mallik Trophy" for dedication and hard work. He has held various important positions during his long service including Special Secretary to Government, (Home) Department, IGP Rayalaseema Region and IGP Police Computer Services and Standardization in the erstwhile state of Andhra Pradesh. He also served as Civilian Police Officer in the UN peacekeeping mission, Bosnia – Herzegovina from 1997 to 1998. After formation of Telangana state in 2014, he worked as Addl. DGP, Grey Hounds & Octopus (Units of Anti-Extremists & Anti-Terrorists Operations) and is presently posted as Addl. DGP of Crime Investigation Department, Telangana.
In 1998 he was decorated with two U.N Peace Medals for Service with United Nations Mission in Bosnia – Herzegovina, in 2004 with Anthrik Suraksha Seva Pathak for serving in Naxal infected area, in 2007 with Indian Police Medal for Meritorious Service and in 2015 with President Police Medal for Distinguished Service.
Secretary – Shri Nitin Baraiya
Shri Nitin Baraiya belongs to 2010 batch of Civil Engineering. Later on he graduated in L.L.B. from Faculty of Law, University of Delhi. Currently, he is working in Hyderabad in Education Sector as a Senior Physics Lecturer with Sri Chaitanya Group.